Shipping Information
Shipping Information
We ship your items insured and most orders ship within 1-business day.
Track Your Order
To track your previously placed order, please log in to Account/Order Status
Packaging
We pack all of our items with expert attention and detail. Each order is hand pulled from our warehouse, and individually packaged by our trained staff with extreme care to protect your valuable purchase during transit.
Included with Your Order
100% Authenticity Guarantee seal attached to your item*
Quality tag
Protective wrapping and packaging
Invoice and easy return instructions
Original authenticity papers,cards, booklets, tags & materials*
Shipping Rates
We offer a variety of shipping options including expedited and international. Rates vary according to the items in your shopping cart. To determine your shipping cost, add products to your shopping cart, view your cart and enter your zip code in the field provided. Available shipping methods and rates will be displayed.
Shipping Carrier
We use UPS for our 2-day, next-day, standard to Canada, and for select standard and 3-day shipments. We use USPS (US Postal Service) for select standard, 3-day, for APO/FPO, and all other international shipments.
Order Cut-Off Time
Our normal cutoff times for Monday thru Friday excluding holidays is:
3PM Central time for UPS Overnight.
10AM Central time for all other orders.
Shipping & Processing Time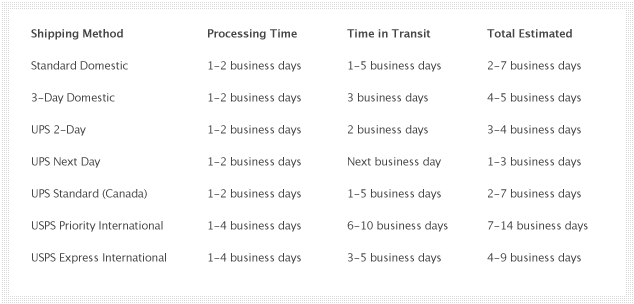 Sign up for our Newsletter
new arrivals, private events & more
Why Sell with Us?
We've been selling authentic luxury designers since 1999.
We take all the work out of selling your items. We pay to ship your items to us, re-condition and clean them and take care of all the selling. All you have to do is sit back and get paid.
You have online access 24-hours a day to your selling account. You can view your item status, check your account balance and more.