Gift Options Information
Gift Options Information
If your items are a gift, we can professionally gift box them for you with all the trimmings.
Gift Wrapping Options
Complimentary gift note and receipt
Premium gift packaging option
Professionally packed gift box*
Beautifully appointed hand-tied bow with a special charm topper*
Greeting card with your personal message*
Easy-Return or exchange processing for your gift recipient
Select gift option during checkout for complete information
Other Popular Gift Options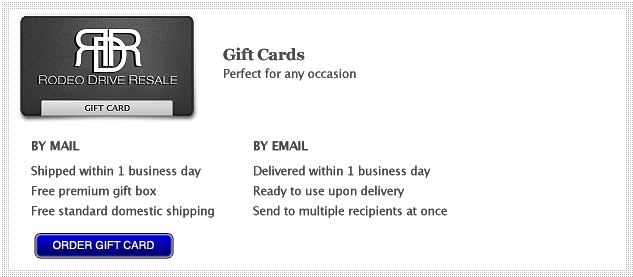 Sign up for our Newsletter
new arrivals, private events & more
Why Sell with Us?
We've been selling authentic luxury designers since 1999.
We take all the work out of selling your items. We pay to ship your items to us, re-condition and clean them and take care of all the selling. All you have to do is sit back and get paid.
You have online access 24-hours a day to your selling account. You can view your item status, check your account balance and more.